Goa, located on the western coast of India, is renowned for its stunning beaches. With its picturesque shoreline, golden sand, and crystal-clear waters, Goa attracts millions of tourists from around the world. Whether you're seeking a peaceful retreat or a lively party scene, Goa has it all. In this article, we'll explore the top 10 beaches in Goa, each with its unique charm and appeal. So grab your sunscreen and let's dive in!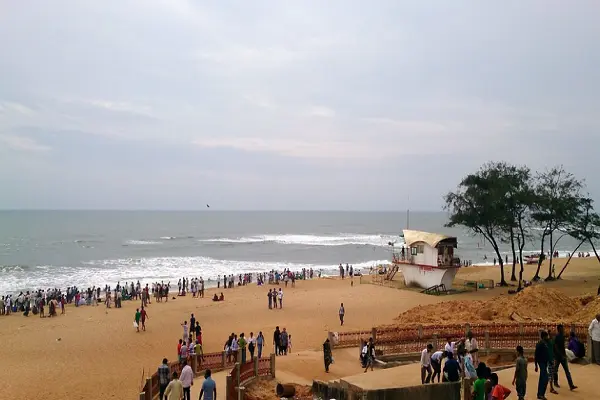 Calangute Beach: Situated in North Goa, Calangute Beach is one of the most popular and busiest beaches in the region. Known as the "Queen of Beaches," it offers a vibrant atmosphere with numerous shacks, restaurants, and beach bars. The beach is perfect for water sports enthusiasts, offering activities like jet skiing, parasailing, and banana boat rides. The vibrant nightlife around Calangute is another major attraction.
Baga Beach: Adjacent to Calangute, Baga Beach is another popular hotspot for tourists. Famous for its lively nightlife, Baga Beach offers a wide range of entertainment options, including nightclubs, beach parties, and live music performances. The beach itself is beautiful, with golden sand and clear waters. You can also enjoy various water sports or simply relax and soak up the sun.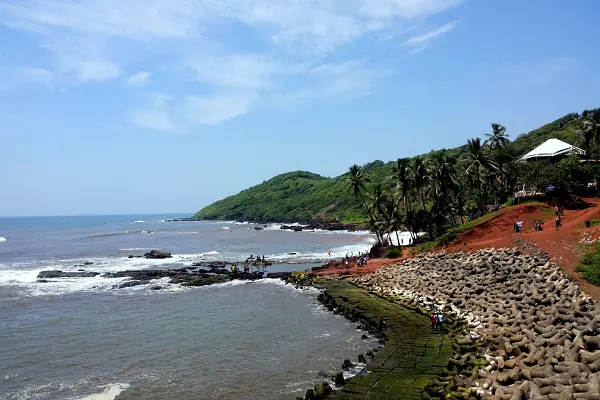 Anjuna Beach: Anjuna Beach, located in North Goa, is famous for its hippie culture and vibrant flea market. This beach gained popularity in the 1960s when it became a gathering place for hippies from around the world. Today, it still retains its bohemian charm, attracting a diverse crowd. Anjuna is also known for its iconic beach parties, where people gather to dance, socialize, and enjoy live music.
Vagator Beach: Just a short distance from Anjuna, Vagator Beach offers a more tranquil and laid-back atmosphere. It is divided into two main stretches: Big Vagator and Little Vagator. The cliffs surrounding the beach provide breathtaking panoramic views of the Arabian Sea. Vagator is also home to the famous Chapora Fort, known for its appearance in the Bollywood movie "Dil Chahta Hai." The beach is ideal for those seeking peace and tranquility.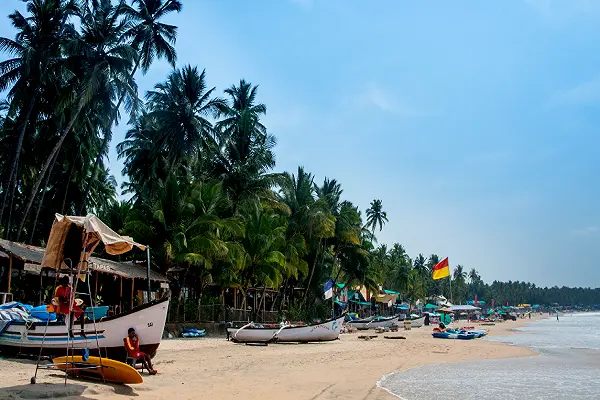 Palolem Beach: Located in South Goa, Palolem Beach is a paradise for nature lovers and those looking for a serene escape. With its pristine coastline, swaying palm trees, and calm waters, Palolem is often referred to as one of the most beautiful beaches in Goa. The beach offers a tranquil environment and is an excellent spot for swimming, sunbathing, and dolphin-spotting trips. The surrounding area is dotted with beach huts and cozy cafes.
Morjim Beach: Known as the nesting site for Olive Ridley turtles, Morjim Beach is a must-visit destination for wildlife enthusiasts. Located in North Goa, it offers a peaceful and serene atmosphere, away from the crowds. The golden sand stretches for miles, providing ample space for relaxation and leisurely walks. Morjim is also popular among birdwatchers, as it attracts a variety of migratory birds during the winter season.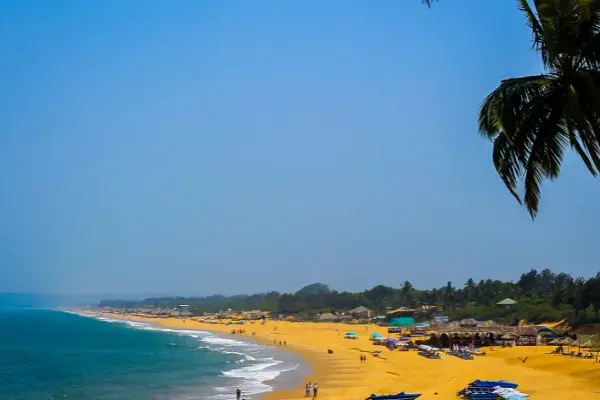 Candolim Beach: Situated in North Goa, Candolim Beach is a beautiful and serene stretch of coastline known for its tranquility. It is less crowded compared to its neighboring beaches, making it an ideal spot for those seeking solitude. The beach is lined with palm trees and offers stunning views of the Arabian Sea. You can enjoy water sports activities, take a leisurely stroll along the shore, or simply relax and unwind.
Colva Beach: Located in South Goa, Colva Beach is one of the longest and most popular beaches in the region. It offers a mix of natural beauty, buzzing atmosphere, and modern amenities. The beach is lined with shacks, restaurants, and souvenir shops. It's a great place to try Goan cuisine and indulge in local delicacies. Colva Beach also hosts various cultural events and festivals throughout the year.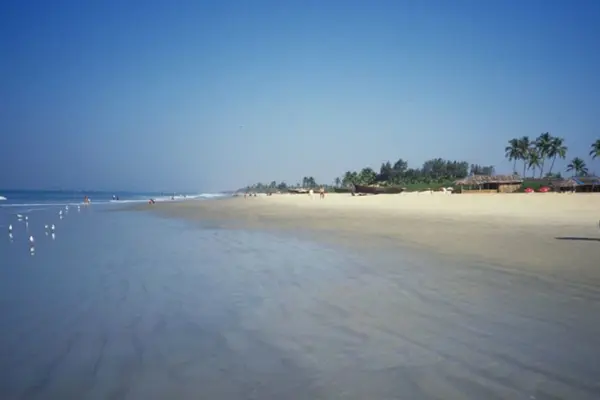 Benaulim Beach: A peaceful and picturesque beach, Benaulim is located in South Goa. It is known for its scenic beauty, tranquility, and clean surroundings. The beach offers a perfect setting for leisurely walks and sunbathing. You can also indulge in water sports activities like jet skiing and parasailing. Benaulim is a great spot for witnessing stunning sunsets, and the beach shacks serve delicious seafood.
Agonda Beach: Tucked away in South Goa, Agonda Beach is a hidden gem cherished by nature lovers and peace seekers. It offers a serene and untouched ambiance, with its pristine shoreline, calm waters, and soft sand. The beach is relatively less crowded, allowing visitors to enjoy solitude and tranquility. Agonda is also famous for its yoga retreats and meditation centers, where you can rejuvenate your mind and body.
conclusion
Goa is a beach lover's paradise, offering a wide range of stunning beaches to explore. From the bustling shores of Calangute and Baga to the serene beauty of Palolem and Agonda, each beach has its own unique charm. Whether you're seeking a lively party scene, thrilling water sports, or a peaceful retreat, Goa's beaches have something for everyone. So pack your bags, put on your flip-flops, and get ready for a memorable beach vacation in Goa!