Arunachal Pradesh is one of the most beautiful and unexplored places in India. Located in the Northeastern corner of India, this mesmerizing region is known for its majestic mountains, lush green valleys, and exquisite Buddhist monasteries. From the best of wildlife sanctuaries and national parks to superb camping opportunities and picturesque tea gardens, Arunachal Pradesh has everything to offer its visitors.
         If you are looking for a much–needed break from the hustle and bustle of the cities, then nothing can beat the beauty of Arunachal Pradesh. A gateway to the adventure–seeking travelers, this north–eastern state showcases numerous attractions and natural beauty to explore. Typical of a mountain terrain, Arunachal Pradesh is blessed with awesome beauty, ready to be explored.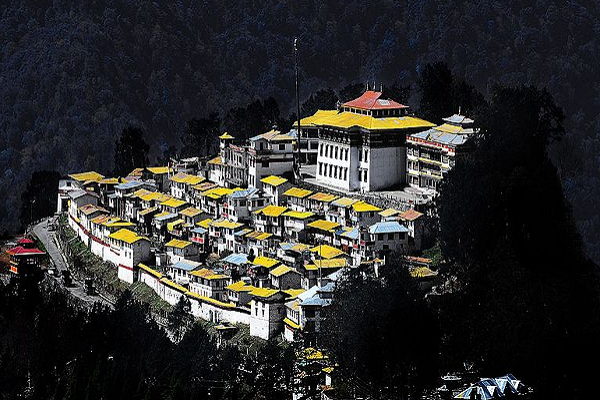 Tawang Monastery
Located at an altitude of 10,000ft, Tawang Monastery is the largest in India and second largest in the world after Tibet's Potala Palace. Tawang Monastery, which is known as 'Galden Namgyal Lhatse', is the residence of the sixth Dalai Lama and is known for its sacred Buddhist scriptures. It is the best place to admire the beauty of nature in Arunachal Pradesh.
Bomdila Monastery
Bomdila Monastery is located in the West Kameng district of Arunachal Pradesh and also known as Dhokham Chorten. It is a beautiful Buddhist Monastery with a palace-like building and big prayer wheels around it. It is considered a holy place by local Buddhists and is a great place to explore Buddhist culture and art.
Ziro Valley
Nestled in the greenery of Arunachal Pradesh, Ziro Valley is one of the most beautiful places in the country. It is a perfect spot for trekking, bird watching, and culture viewing. The valley presents an ancient Apatani culture and has a bounty of mouth-watering Cuisine.
Daporijo
Sitting on the banks of Subansiri river, Daporijo is a rugged, hill town surrounded by verdant, uninhabited hills. The small town is known for its living culture, rustic charm and many Hindu and Buddhist monasteries. Daporijo has very vivid traditional vibrancies on the walls of every house.
Kibithoo
This small village is located in Anjaw district of Arunachal Pradesh on the banks of Lohit river and is also known as 'the Hinduism capital of Arunachal'. The main attraction of Kibithoo is its Hindu temples. The prayer sessions in the temple are mesmerizing, and makes a visit to the village unforgettable.
Pasighat
One of the most ancient towns in Arunachal Pradesh, Pasighat is famous for its diverse culture and lush green environment. It is home to many unique temples, lush green tea gardens, and the iconic river-fringed city of Mehao Wildlife Sanctuary.
Roing
Roing is situated at the convergence of rivers, Dibang and Lohit. The fresh cool air, the magical beauty of the Dibang Valley, and pristine beauty of the enchanted island of Majuli make Roing the perfect destination for a peaceful retreat.
Ganga Lake
Ganga Lake is an artificial water reservoir situated in the district of Changlang, Arunachal Pradesh. It is an ideal destination for fishing, bird watching, and photography. The splendid view of the Himalayan foothills across the lake is worth watching.
Mouling National Park
Situated in the Dibang Valley of Arunachal Pradesh, Mouling National Park is spread across 3,053 square km of a lush green landscape. It is home to a large variety of wildlife like snow leopards, red pandas, musk deer, and Himalayan black bears.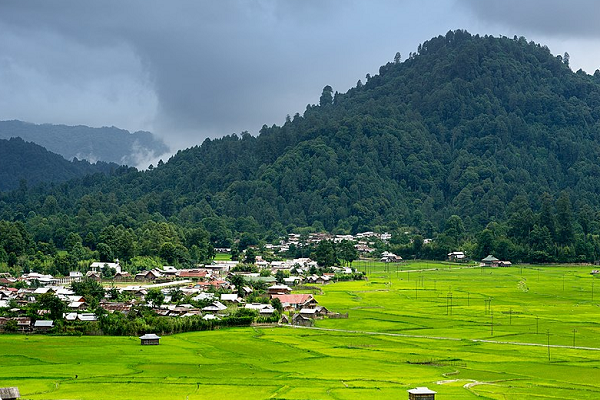 Mishmi Hills
Mishmi Hills are located in the eastern corner of Arunachal Pradesh. They are home to a wide range of flora and fauna, and are often referred to as 'the haven of many rare species'. Tourists to the hills can enjoy activities such as trekking, river rafting, fishing and camping.
Itanagar
Itanagar is the capital of Arunachal Pradesh and home to some of the most beautiful temples in India. Itanagar has some of the most popular tourist attractions in the state like, Ganga Lake, Ita Fort, and Balipara Reserve Forest.
Bhalukpong
Located in the western part of Arunachal Pradesh, Bhalukpong has enchanting beauty with its remarkable wilderness and rolling hills. This picturesque hill town is close to the Pakhui Wildlife Sanctuary, which houses animals like tigers, leopards, and several bird species.
Kiangmai
An untouched paradise located in the East Kameng district of Arunachal Pradesh, Kiangmai is home to the evergreen rainforest and some amazing picturesque places and unforgettable memories. The most incredible view from Kiangmai is the snow-clad Himalayan range.
Talley Valley Wildlife Sanctuary
Located in the western side of Arunachal Pradesh, Talley Valley Wildlife Sanctuary is home to some of the most exotic wildlife in the region. Tourists can take in the beauty of the river Jamdang, the waterfalls, and the lush green meadows in the sanctuary.
Nuranang Waterfalls
Located in the Tawang district of Arunachal Pradesh, Nuranang Waterfalls is a must visit attraction. It is often referred to as 'the most beautiful waterfalls in India' and is surrounded by picturesque landscapes of mountains and greenery.
Dirang Valley
Dirang Valley is a spellbinding landscape, nestled in the West Kameng district of Arunachal Pradesh. With its mesmerizing green meadows, colorful terraced patches, and apple orchards, the valley exudes a charm that is sure to cast a magical spell on the traveler.
Tippi Orchid Sanctuary
Tippi Orchid Sanctuary is special for its home to approximately 600 varieties of orchids, making it a unique destination for any nature enthusiast. The Orchid Sanctuary is situated in West Kameng district and is surrounded by some captivating landscapes.
Namdapha National Park
Namdapha National Park is one of the most unique wildlife reserves in India, offering visitors an exclusive chance to see some rare species in their natural habitat. Interesting species of mammals, reptiles, and birds can be seen around the park.
Nampong
Nampong is a small town located near the India-Myanmar border and is blessed with tremendous natural beauty. It is considered to be a heavens' gate for nature lovers and photographers. Nampong offers some breathtaking views of Mehao lake and the lush green forests of Arunachal Pradesh.
Pangin
Pangin is a small town tucked away in the Siang district of Arunachal Pradesh. It is one of the most unspoilt places in India and rich with wildlife and some amazing,natural vistas. The town offers some great opportunities for camping and nature walks.