Introduction
Janhvi Kapoor, the talented and promising Bollywood actress, has been making waves in the film industry with her impressive performances and charming persona. As a rising star, Janhvi Kapoor has captivated audiences with her acting prowess and has managed to carve a niche for herself in a short span of time. In this article, we will explore Janhvi Kapoor's background, her success in the film industry, and most importantly, her exciting lineup of upcoming movies in 2023 and 2024.
Janhvi Kapoor's Background and Career
Janhvi Kapoor, born on March 6, 1997, in Mumbai, India, comes from a family deeply rooted in the film industry. She is the daughter of the legendary actress Sridevi and producer Boney Kapoor. Growing up in an environment surrounded by films, Janhvi developed a deep passion for acting from an early age. After completing her education, she pursued a career in acting and made her debut in 2018 with the film "Dhadak," which garnered critical acclaim and marked her entry into the spotlight.
Janhvi Kapoor's Success in the Film Industry
Since her debut, Janhvi Kapoor has established herself as a promising talent in Bollywood. Her performances have been praised for their sincerity, emotional depth, and versatility. Janhvi has proven her acting skills through films like "Gunjan Saxena: The Kargil Girl" and "Roohi," where she showcased her ability to portray diverse characters with conviction. With her dedication and hard work, Janhvi has garnered a significant fan following and has become a popular face in the industry.
Anticipation for Janhvi Kapoor's Upcoming Movies
As an actress who continuously strives for excellence, Janhvi Kapoor has an exciting lineup of movies in the pipeline, creating a buzz among her fans and the film fraternity. Let's take a closer look at Janhvi Kapoor's upcoming movies in 2023 and beyond.
Janhvi Kapoor's Upcoming Movies in 2023 & 2024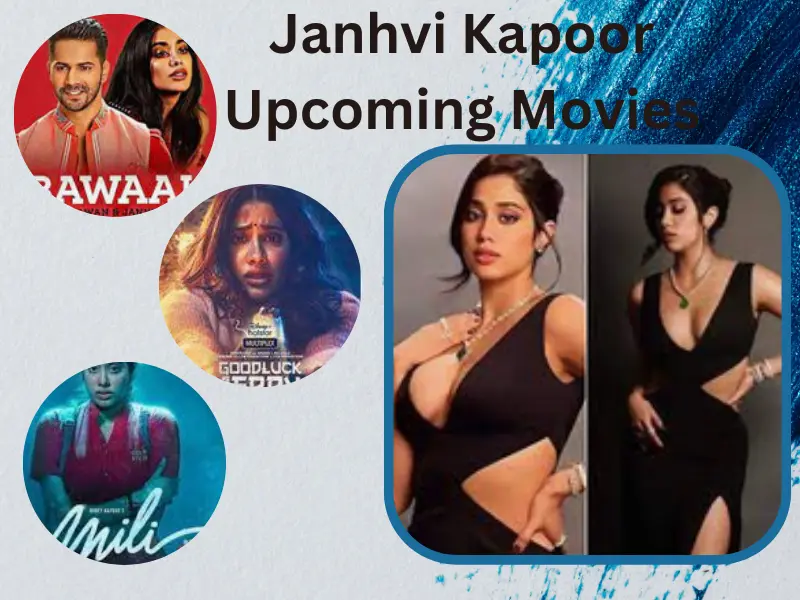 | | | | |
| --- | --- | --- | --- |
| Movie Name | Release Date | Star Cast | Director |
| Bawaal | 7 April 2023 | Janhvi Kapoor, Varun Dhawan | Nitesh Tiwari |
| Bade Miyan Chote Miyan | 24 Dec 2023 | Akshay Kumar, Tiger Shroff, Janhvi Kapoor | Ali Abbas Zafar |
| Mr and Mrs Mahi | 2023 | Janhvi Kapoor, Rajkummar Rao | Sharan Sharam |
| Dostana 2 | 2023 | Janhvi Kapoor | Collin D'Cunah |
| Bombay Girl | N/A | Janhvi Kapoor | Ssanjay Tripaathi |
| Takht | N/A | Janhvi Kapoor | Karan Johar |
| Ranbhoomi | N/A | Janhvi Kapoor, Varun Dhawan | Shashank Khaitan |
Mr. And Mrs. Mahi
It is an upcoming cricket teamed Bollywood movie Helmed By Sharan sharma And produced by Karan Johar. The Movie is Plan To Release In Cinemas on 7th october 2022. This Movie is currently under production but they have declared its announce date. To know about it, learn till the end.
Mr. And Mrs. Mahi Is an upcoming cricket teamed Bollywood movie Helmed By Sharan sharma And produced by Karan Johar. The Film Will Actors Rajkumar Rao and Janhvi Kapoor. It is Currently Under production and being made under the poster of Dharma productions. The Movie is Plan To Release In Cinemas on 7th october 2022.
Good Luck Jerry
Jaya "Jerry" Kumari, a young Bihari girl, lives with her mother, Sharbati, and little sister, Chhaya "Cherry" Kumari, in a small town in Punjab. She works in a massage parlour as an adult. Their unmarried neighbour, Anil, who secretly harbours feelings for Sharbati, is always supportive towards them and acts as a father figure to both Jerry and Cherry. Sharbati is unhappy about Jerry's job, though she is determined to continue the job as she can earn more money there and can live a comfortable life. Rinku, a local derp, stalks Jerry even though she is uninterested in him. Tenzin is Jerry friend and help in her mother business.
Mili
Mili Naudiyal is a B.Sc Nursing graduate and attends IELTS coaching classes intended for a job abroad. She works part-time at a restaurant named Doon's Kitchen, located within a plush mall. She lives with her father Niranjan Naudiyal, who does not like her going to Canada and has disagreements with Mili. Unknown to Niranjan, Mili has a boyfriend Sameer Kumar, who is in search of a job.
One night, while Sameer is riding Mili to her home, they are stopped by police who penalise him for not wearing a helmet and drunken driving, they both are brought to the police station. Niranjan is summoned to the station, and is in dismay of seeing his daughter and does not talk to her despite her several attempts of creating conversation. The next night after work at Doon's Kitchen, Mili's manager Sudheer Malkoti unknowingly locks her in the freezer room. At -18 °C, Mili has to survive in the freezing cold and tries everything to keep herself alive. She tries to block the exhaust fan but ended up dislocating her leg. She starts to get frostbite and bleeding through her nose.
Dostana 2
For the unversed, it was in 2019 when Karan Johar announced Dostana 2, the sequel to much–loved romantic comedy which came out in 2008 starring Priyanka Chopra, John Abraham, and Abhishek Bachchan. The follow-up initially had Janhvi Kapoor, Kartik Aaryan and Lakshya.
Karan Johar ki big project Takht ke baad, Janhvi Kapoor ne popular comedy-drama Dosatana (2008) ke sequel ke liye antim roop diya, jaha Kartik Aaryan lead actor the, lekin baad me kuch professional working issues ke reason unhe badal diya gaya.
Bombay Girl
The story revolves around a 26-year-old girl with absolutely nothing to do or contribute (not that she requires to) to, in probably the 'wealthiest' family in the country. This book is bound to keep you engaged and if you know how dysfunctional Indian families can be you are sure to enjoy reading this one.
Bawaal
Bawaal (transl. Commotion) is an upcoming Indian Hindi-language romantic drama film directed by Nitesh Tiwari, and produced by Sajid Nadiadwala and Ashwiny Iyer Tiwari under Nadiadwala Grandson Entertainment and Earthsky Pictures. It stars Varun Dhawan and Janhvi Kapoor as a troubled married couple.
Janhvi Kapoor ne first time Bawaal movie me chocolaty boy Varun Dhawan ke saath romance kiya, dono star kids ne Bollywood me successful career established kiya hai. Veteran director Nitesh Tiwari unhe ek saath direct karne aate hai.
Takht
Filmmaker Karan Johar has clarified that he has not shelved his period drama Takht as it is a 'piece of (his) heart' and also explained why the project had to be delayed. Calling it his 'passion project', he said that he can't let the project get away. Karan also compared it with his 2001 film Kabhi Khushi Kabhie Gham.
Karan Johar ki next movie Takht bula rahi hai aur isme very huge stars Ranveer Singh, Kareena Kapoor Khan, Alia Bhatt, Vicky Kaushal, Bhumi Pednekar, Janhvi Kapoor and Anil Kapoor pivotal roles me hoge.
Rannbhoomi
Reports se pata chalta hai ki Varun Dhawan aur Janhvi Kapoor second time screen space share karege aur film Rannbhoomi hogi, Dulhania franchise fame Shashank Khaitan ne unhe directed kiya tha.
Conclusion
Janhvi Kapoor's journey in the film industry has been remarkable, and her upcoming movies only add to the excitement surrounding her career. With her talent, dedication, and growing body of work, Janhvi Kapoor is undoubtedly a force to be reckoned with in Bollywood. As fans eagerly await her upcoming releases, it is clear that Janhvi Kapoor's star is on the rise, and she is poised to leave a lasting impact on the industry.
FAQs
Q: When is Janhvi Kapoor's next movie releasing? A: The release dates of Janhvi Kapoor's upcoming movies vary. Please refer to the respective movie's official announcements for accurate release information.
Q: Which movie marked Janhvi Kapoor's debut in Bollywood? A: Janhvi Kapoor made her debut in Bollywood with the film "Dhadak" in 2018.
Q: Is Janhvi Kapoor related to any film industry personalities? A: Yes, Janhvi Kapoor is the daughter of the late actress Sridevi and producer Boney Kapoor.
Q: What are some of Janhvi Kapoor's notable past performances? A: Janhvi Kapoor has delivered noteworthy performances in films like "Gunjan Saxena: The Kargil Girl" and "Roohi."
Q: How has Janhvi Kapoor's popularity grown in recent years? A: Janhvi Kapoor has gained popularity due to her impressive acting skills, relatable on-screen presence, and her ability to connect with the audience.