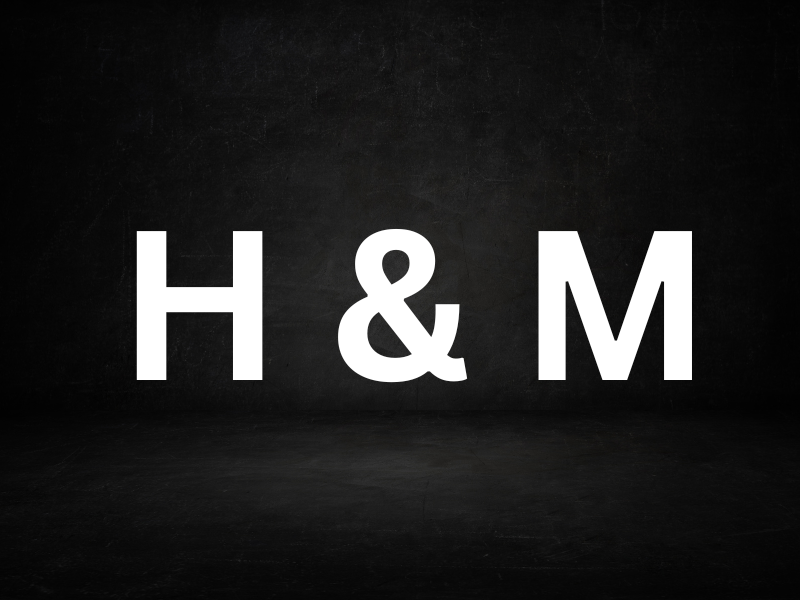 Introduction
In the fast-paced world of fashion, H&M stands out as a brand that seamlessly blends style, affordability, and sustainability. With a rich history spanning several decades, H&M has captured the hearts of fashion enthusiasts worldwide. In this article, we will delve into the various aspects that make H&M unique, from its fashion philosophy to its commitment to environmental and social responsibility.
History of H&M
H&M, short for Hennes & Mauritz, was founded in 1947 in Västerås, Sweden, by Erling Persson. Initially, it specialized in women's clothing and operated under the name Hennes, which means "hers" in Swedish. In 1968, the company expanded its range to include menswear and changed its name to Hennes & Mauritz. Since then, H&M has experienced remarkable growth, becoming one of the world's leading fashion retailers.
H&M's Fashion Philosophy
H&M is known for its on-trend and accessible fashion offerings. The brand's design teams, comprising talented designers and trend analysts, constantly monitor global fashion trends to create collections that cater to diverse tastes. H&M's philosophy revolves around providing customers with fashionable clothing at affordable prices, allowing them to express their individuality and stay ahead of the fashion curve without breaking the bank.
H&M's Sustainability Efforts
In recent years, sustainability has become a crucial focus for H&M. The company is committed to reducing its environmental impact and promoting ethical practices throughout its supply chain. H&M implements various initiatives, such as utilizing organic and recycled materials, reducing water consumption, and ensuring fair working conditions for its employees and suppliers. Through these efforts, H&M strives to create a more sustainable and responsible fashion industry.
H&M's Collaborations
One of the key factors contributing to H&M's popularity is its collaborations with renowned designers and celebrities. These collaborations bring high-end fashion to the masses, allowing customers to own exclusive pieces at affordable prices. Over the years, H&M has collaborated with esteemed names like Karl Lagerfeld, Stella McCartney, and Balmain, creating a buzz in the fashion world and attracting a diverse customer base.
H&M's Online Presence
As technology continues to reshape the retail landscape, H&M has embraced the digital era with its robust online presence. The company's website and mobile application provide a seamless shopping experience, allowing customers to browse and purchase their favorite items from the comfort of their homes. H&M's online platform also offers personalized recommendations and style inspiration, enhancing the overall customer experience.
H&M's Store Experience
While H&M excels in the online realm, its physical stores offer a unique shopping experience. The stores are strategically designed to reflect the brand's trendy and vibrant aesthetic, creating an inviting atmosphere for customers. H&M's store layouts promote exploration and discovery, with well-organized sections and helpful staff who ensure a hassle-free shopping experience.
H&M's Pricing Strategy
One of H&M's key strengths lies in its pricing strategy. The brand offers affordable fashion options without compromising on style or quality. H&M's ability to provide trendy garments at competitive prices has resonated with a wide customer base, making fashion accessible to individuals from various socio-economic backgrounds.
H&M's Customer Base
H&M has successfully captured the attention of fashion-conscious individuals across different age groups. Its wide range of clothing options, from casual wear to formal attire, caters to diverse preferences and occasions. H&M's inclusive approach and commitment to offering a variety of sizes further contribute to its popularity among customers seeking fashionable clothing that fits well.
H&M's Marketing Campaigns
H&M's marketing campaigns have played a significant role in enhancing brand awareness and attracting customers. The company leverages creative advertising, influencer collaborations, and social media platforms to engage with its target audience. H&M's campaigns often promote inclusivity, diversity, and self-expression, resonating with customers who seek fashion that aligns with their values.
H&M's Competitive Landscape
The fashion industry is highly competitive, with numerous players vying for market share. H&M faces competition from both traditional retailers and online fashion platforms. However, the brand's ability to adapt to changing consumer preferences, offer affordable fashion, and prioritize sustainability sets it apart from its competitors.
H&M's Future Prospects
Looking ahead, H&M is well-positioned to continue its success in the fashion industry. The brand's commitment to sustainability aligns with the growing consumer demand for ethically produced fashion. H&M's investments in digital innovation and expansion into new markets further reinforce its future prospects, allowing it to reach a wider customer base and maintain its position as a fashion industry leader.
Conclusion
H&M has carved a niche for itself in the fashion industry, combining style, affordability, and sustainability in its offerings. From its humble beginnings to its global presence today, the brand has continually evolved to meet the ever-changing needs of fashion-conscious individuals. With its commitment to responsible practices and customer-centric approach, H&M remains at the forefront of fashion, setting trends while making a positive impact.
If you want to dress your kids in the latest trends and fashions without breaking your family budget, you will love H&M Kids. This online store has clothing for newborns through adults, so you can find something for everyone in your family. You can shop for dresses, jeans, tops, accessories, and more from their wide range of styles and collections.Shop their deals here.
FAQ
1. Does H&M offer plus-size clothing?
Yes, H&M recognizes the importance of inclusivity and offers a range of sizes, including plus-size options, to cater to customers of different body types.
2. Are H&M's sustainable initiatives limited to clothing production?
No, H&M's sustainability efforts extend beyond clothing production. The company also focuses on minimizing waste, reducing energy consumption, and promoting recycling in its operations.
3. Can I return items purchased online to an H&M physical store?
Yes, H&M provides the option to return items purchased online to their physical stores, making the returns process convenient for customers.
4. Does H&M have a loyalty program?
Yes, H&M offers a loyalty program called H&M Membership, which provides members with exclusive discounts, rewards, and access to special events.
5. Are H&M's collaborations available worldwide?
H&M's collaborations are typically available in select markets. However, the brand strives to make these collaborations accessible to customers worldwide through its online platform.