The biggest company in the world, by revenue, is Walmart. It is an American multinational retail corporation that operates a chain of hypermarkets, discount department stores, and grocery stores. Walmart is the world's largest company by revenue, with over $576 billion in sales in 2022.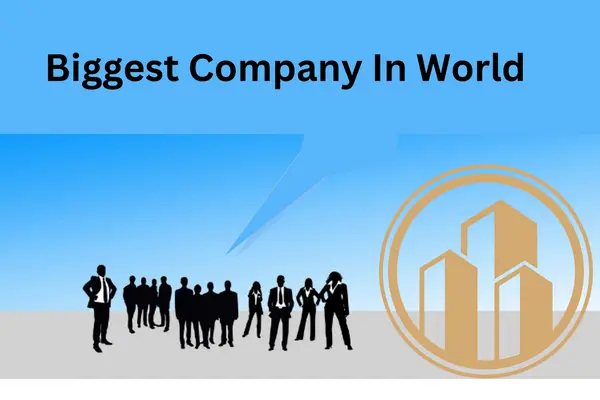 Top 10 biggest companies in the world 2022
   ->Walmart (United States) :
Walmart is an American multinational retail corporation that operates a chain of hypermarkets, discount department stores, and grocery stores. Headquartered in Bentonville, Arkansas, the company was founded by Sam Walton in nearby Rogers, Arkansas in 1962 and incorporated under Delaware General Corporation Law on October 31, 1969. It also owns and operates Sam's Club retail warehouses. As of January 31, 2023, Walmart has 10,593 stores and clubs in 24 countries. The company operates under the name Walmart in the United States and Canada, as Walmart de México y Centroamérica in Mexico and Central America, as Flipkart Wholesale in India, and as Flipkart in India and Brazil. In addition, it has wholly owned operations in Chile, Canada, and South Africa. Through Walmart Global eCommerce, Walmart operates e-commerce websites in 11 countries.
 ->Amazon (United States):
Amazon was founded in 1994 by Jeff Bezos as an online bookstore. It has since expanded to sell a wide variety of products and services, including electronics, clothing, furniture, food, and groceries. Amazon is also a major provider of cloud computing services, and its Amazon Web Services (AWS) platform is used by millions of businesses around the world.
->Sinopec (China):
Sinopec was established as a joint stock entity under the China Petrochemical Corporation Group (Sinopec Group) in February 2000. The company was simultaneously listed in Hong Kong, New York, and London in October 2000. A Shanghai listing was completed in June 2001. Given its legacy asset base from Sinopec Group, analysts have categorized it as a more downstream oil player than PetroChina. Sinopec is the largest oil refiner in Asia by annual volume processed. Sinopec produces around 1/4 as much raw crude oil as PetroChina, but produces 60% more refined products per annum.
->China National Petroleum Corporation (China):
CNPC has a presence in almost 70 countries and employs over 100,000 people. The company's main activities include oil and gas exploration and production, refining and marketing, chemicals and natural gas, and engineering and construction. CNPC is also involved in the development of new energy sources, such as solar and wind power.
->State Grid Corporation of China (China):
China began an initiative to reform the country's power sector in a three-stage process in 1986. In the third and final stage in March 2002 the State Council of the People's Republic of China put into effect a plan to restructure the country's electric power system in order to create competition and separate generation and transmission functions.
->Royal Dutch Shell (Netherlands):
Shell was formed in 1907 through the merger of two rival companies: the Royal Dutch Petroleum Company (Dutch: Koninklijke Nederlandse Petroleum Maatschappij) of the Netherlands and the Shell Transport and Trading Company Limited of the United Kingdom. The company's name was changed to Royal Dutch Shell plc in 2005.
->Exxon Mobil (United States):
ExxonMobil was formed in 1999 through the merger of Exxon and Mobil. Exxon was founded in 1870 as Standard Oil Company of New Jersey, and Mobil was founded in 1900 as Standard Oil Company of New York. The company produces about 3% of the world's oil and about 2% of the world's energy. ExxonMobil also has a significant presence in the chemicals industry.
->Apple (United States):
Apple was founded by Steve Jobs, Steve Wozniak, and Ronald Wayne in April 1976 to develop and sell Wozniak's Apple I personal computer. It was incorporated by Jobs and Wozniak as Apple Computer, Inc. in January 1977, and sales of its computers, including the Apple II, grew quickly. Within a few years, Jobs and Wozniak had hired a staff of computer designers and had a production line. They also had a retail store, the first of its kind, where customers could buy Apple products and get help with them.
->BP (United Kingdom):
BP has a significant presence in the oil and gas industry. The company has a number of oil and gas fields in the North Sea, and it also operates a number of refineries and petrochemical plants in the UK. BP is also a major player in the UK's retail fuel market, with a network of over 1,200 service stations.
->TotalEnergies (France):
TotalEnergies has its head office in the Tour Total in La Défense district in Courbevoie, west of Paris. The company is a component of the Euro Stoxx 50 stock market index.In 2021, TotalEnergies had a turnover of $208 billion and a net income of $10.6 billion. The company employs 100,000 people worldwide.
Conclusion
It is important to note that the biggest companies in the world can change quickly, as their fortunes can be affected by a variety of factors, such as economic conditions, changes in consumer behavior, and technological advancements.